Eyeglasses
Mt Vernon, NY
Very attentive, clear information and friendly. I never feel rushed
-by Yvonne A.
Eyeglasses can help patients of all ages enhance their vision and see clearly. Whether you need glasses for reading, seeing far distances, or preventing other issues, we can find the solution you need. Eyeglasses involve wearing glasses with correctional or prescription lenses to help enhance one's vision.
Eyeglasses are available at Bright Eyes Optometry in Mt Vernon and the surrounding area. If you are having difficulty focusing on objects, whether near or far, you should schedule an appointment and visit us. We can identify the causes and fit you with the right lenses to help you see correctly once more.
Give us a call today at 914-668-1429 so you can get an eye exam and receive the treatment or eyeglasses you need.
Common vision conditions
As stated in an article published by the Centers for Disease Control and Prevention, more than 3.3 million people in the United States are legally blind. Furthermore, more than 11 million people in the U.S. ages 12 and up need corrective lenses. There are numerous causes of blindness and limited vision.
At Bright Eyes Optometry, we help patients with these issues see more effectively and manage the symptoms of various dysfunctions. Some conditions that require eyeglasses include:
Glaucoma, which damages the eye's optic nerve
Cataracts, which cloud the eye lens and vision
Diabetic retinopathy, which is damage to the blood vessels of the back of the eye
Macular degeneration, which is the deterioration of the middle part of the retina
Considering Eyeglasses
Through a routine eye exam, we can identify these and other eye conditions in patients. Sometimes, the patient may not realize there is a problem. Many patients will continue to live with the vision issue and assume it is normal. Regardless, cloudy, blurry, or otherwise limited vision will be a hindrance. In an eye exam, our optometrist will have the patient read an eye chart with letters to measure the strength of their sight.
We will then examine all parts of the patient's eye with instruments and lights. Part of this includes the dilation of the patient's eye, which will allow us to see the entire retina, optic nerve, and macula. If we determine the patient needs corrective lenses to improve their vision, then we will go over possible treatment options during the appointment.
The type of lenses we recommend will depend on the patient's condition. Some patients may only have trouble seeing at far distances or reading up close. No matter the type of lens, we will also make adjustments to customize the treatment for each patient. Contact lenses are available for many patients, though it may suit the person's needs to have eyeglasses instead.
Advantages of Prescription Eyeglasses
Unlike prescription lenses, store-bought glasses are not going to help a patient's vision. People who buy store-bought eyeglasses may even risk damaging their vision further. With our prescription, patients can be sure they are purchasing the proper type of glasses to meet their needs.
Prescriptions are precise and conform to the patient's needs and eye dysfunction. It is also easier for the patient to follow up with our optometrist and get a new prescription if the lenses are giving the person trouble.
Call Us Today
Children and adults should have annual eye exams. It is even more crucial for older patients to visit Bright Eyes Optometry and check their vision. Our team will prescribe the right treatment, including corrective lenses, to help take care of their eyesight.
Give us a call today at 914-668-1429 and take care of this vital part of your health.
Frequently Asked Questions
When should people start getting eye exams?
Our staff recommends that babies have an eye exam at six months. The next exam should take place around age 3. At the time the child begins school, there should be another eye exam. Most patients over the age of 10 will need an eye exam about once per year.
What are some signs a patient may need eyeglasses?
Blurred vision is one of the most significant warning signs that a person needs corrective lenses. Other signals include headaches, squinting, and the need to sit close to the TV. Some people who require glasses may even see halos around light.
How long is an eye exam?
Exam times can vary slightly from patient to patient. Some doctors may check for issues more comprehensively in older patients. However, most exams should not last more than 30 minutes.
Does insurance cover eyeglasses?
Many health insurance companies will pay for a portion of eyeglasses if the person has a vision condition. Routine eye exams, however, may not be covered. We can go over possible insurance options during a phone call when scheduling an appointment.
Should people wear eyeglasses to bed?
Eyeglasses and contacts are generally not necessary to wear while the person is sleeping. However, there are night contact lenses that our team may prescribe for certain patients. Our optometrist will help the patient understand which solution is right.
Should people wear eyeglasses during sporting events or other activities?
Our optometrist will discuss the pros and cons of wearing eyeglasses during sporting competitions. Usually, we do not recommend this, as there is a high risk of damaging the frames or lenses. Contact lenses may be a more practical solution for athletes.
Recent Posts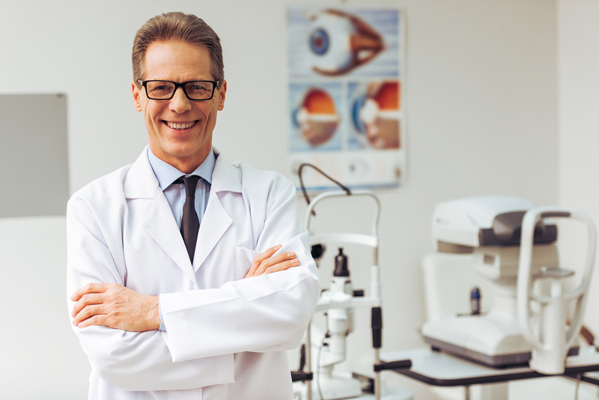 Emergency eye care is needed if you find yourself dealing with a problem with your eye that causes pain or affects your vision. Failing to treat eye injuries as soon as they are detected can lead to permanent consequences, like reduced vision or blindness. Common eye injuries that require emergency eye care include: Exposure to…